Website Development
If you have a business, a website is important to verify to your clients you are a legitimate operation.
FREE Website Builders
These are great for building a modern looking website.
Standard Design and Marketing rules apply

Most site builders to not offer any Email services based on your domain name.
We fix this by hosting your MX (Mail Exchange Servers) on SmallPond.
Simply obtain the "A" record of the website you have built and take out Mail Box Hosting - $AU
50.00pa
Email Only Hosting Plan click here
Content Management Websites
D.I.Y. Websites
There is 1 SQL database allocated to the $66 starter Hosting. Each of these CMS Programs uses 1 SQL Database
The programs listed below can be automatically installed using your cPanel.
There is extensive instructions for all these CMS websites on the internet.
Most have Forums associated with the CMS.


Note : it is very important to use the latest version of this program and keep it up to date as these programs get hacked on a regular basis

Your WordPress program will be subjected to brute force attacks.
The main reason these types of bot attacks are becoming more prevalent is the cost of crypto currency has been rising.
WordPress standard installation offers these bots an opportunity to guess the login by brute force.
This is especially so if the login file is the default wp-login.php and the user name left as admin.
Once a site is compromised then the crypto miner is able to set up and use the WordPress site to mine currency like Bitcoin.

Please update your site and install this simple plugin.
Limit Login Attempts


Note : it is very important to use the latest version of this program and keep it up to date as these programs get hacked on a regular basis
More information : click here



Automatic PHP Installer supplied
SmallPond Built Websites
All Sites Include:
Clear navigation and ample opportunities to elicit a contact from a potential client. Your logo and design recommendations will be incorporated into the overall look of the site. You are given the opportunity to preview and approve the design prior to applying it to your website.

Your site will be Google verified. Tuned to Google Key Phrases to give your the best chance of recognition possible. An xml site map submitted to Google to assist the crawler robots.
Email:
POP3 Email Boxes : accessible from your email program.

Unlimited email forwarders
The pricing includes
Page Construction, Clear Navigation, Consultation, Emphasis on Google Search Engine Recognition, FTP uploads and Site Testing.
Hosting Packages:
$66pa for a Starter Pak - this will fit all the packages above
What is needed to build a website:
You are to provide domain name, logos, pictures and text.
Clear instructions on the look of your site - A4 Page size.
Usually this is emailed through to SmallPond as attachments.
Web Site maintenance:
DIY : There is a simple HTML editor found in your Control Panel.
SmallPond maintenance is based on time spent - once an hour is reach, work is charged out at $88 per hr.
Adding or altering text and graphics is not time consuming.
Responsive Websites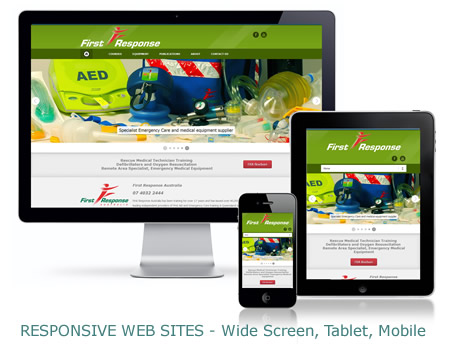 Click on the graphic above for a simple responsive website
Google is promoting all websites to be Mobile friendly.
There are 2 ways to accomplish this.
1. Create a seperate Mobile friendly website as a sub domain eg. m.yourdomain.com
2. Rebuild the existing website into a responsive format