Hosting Support
Account Restoration (BACKUPS) : contact SmallPond Support. AUD$20 per restoration.
Toggle Navigation : Click heading to open and close
Common Problems
PHP programs (eg WordPress) on your Hosting Space
WordPress - Joomla Exploits (HACKS) Common CMS Open Source Programs such as
WordPress, Joomla and plugins like Virtuemart
are susceptible to hacks if the versions are out of date.
Check your website
:
http://sitecheck.sucuri.net/
How does my site get infected?
Use of old PHP versions with known security flaws in them (always use the latest stable version).
SQL database injections are a common hack
777 permissions on files leave the back door open to write to a file.
Uploading a FREE template/Site plugin which is already contaminated.
(WordPress Twenty Fifteen theme shipped by default.)
Using a pirated copy of an HTML editor where a Trojan is embedded in page HTML script and uploaded to the website.
Password breach (Using simple passwords)
Use the password generator in your cPanel or http://strongpasswordgenerator.com/
What do I do?
Change password.
Use a non-typical username (for example, do not use admin as your username).
Use a long password with special characters.
You are responsible for the content on your hosting space
Scan the site on your computer using an effective antivirus program like AVG.
Look for file dates in FTP or your File Manager that have been changed.
The dates will not correspond to dates of other files last worked on.
Look for <iframe>xxxxx.xxxx</frame> injections into the code.
Look for java script embedded in the code.
Look for obvious redirects to malicious websites
Manually remove code.
Run the Anti Virus program to double check it is free from contamination.
Remove the old website and upload the clean version.
If you did not construct your website then you may have to seek help from the original developer.
Common entry points are also contained within free plugins obtained on the web and
uploaded by the owner
of the website. examples:
/home/xxxxxxx/public_html/ddd.php
/home/xxxxxxx/public_html/wp-content/themes/deep-silent/404.php
/home/xxxxxxx/public_html/wp-content/themes/twentyten/404.php
Up Grading Word Press
How do you know when a new WordPress Version is available?

The WordPress Dashboard is built with an auto-reminder script that posts a notice when an updated WordPress version is available.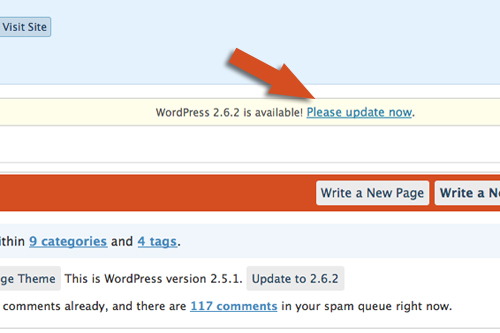 Be aware a new WordPress version may be available for MANUAL upgrades before it is available for upgrades through cPanel Fantastico Auto-Installer.

Deactivating Plugins is your FIRST STEP!

The first thing you must do before upgrading your WordPress Blog is to deactivate all plugins. At times, plugins will be incompatable with newer versions of WordPress. When this happens, it can cause all sorts of issues across your WordPress blog. The absolute best way to remedy this is to deactive ALL plugins BEFORE upgrading. Here is how to do it.

Once in your WordPress Dashboard, Go To Plugins (orange link in top right corner).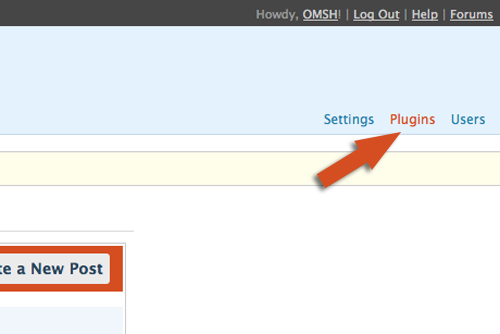 Within "Plugin Management", click the white square to the left of the word "Plugin" (found in the dark grey horizontal table header right below the blue button that says "Deactivate All Plugins") to auto-check ALL PLUGINS.

Then, click the blue button, "Deactivate All Plugins".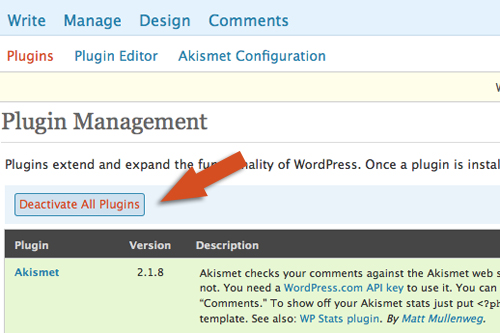 This will deactive ALL your plugins immediately; your WP program is now ready for a clean upgrade.

Upgrade using cPanel Fantastico Auto-Installer

Open a new tab in your browser window and log into your cPanel. Typically found at yourblogname.com/cpanel. Depending on the version and/or skin of your cPanel, it may, or may not, look like mine below. Either way, find the link to Fantastico Auto Installer.

It is called Fantastico Deluxe.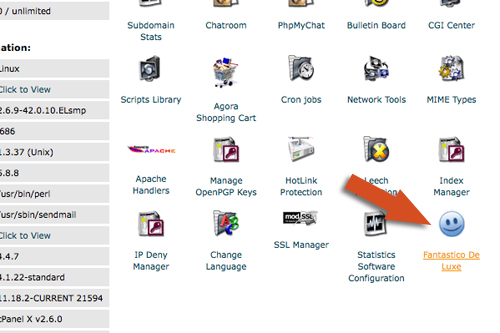 Click through the Fantastico Deluxe link and then, click on the radio button to the left of the "WordPress" text link found in the left sidebar.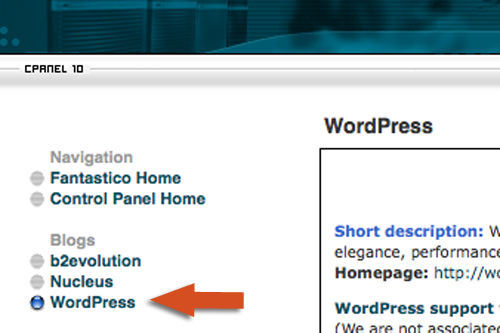 Once in the "WordPress" window, your current version is displayed. As you can see, I was running 2.5.1 (old version) and needed to Upgrade to the latest version.

Click on the text link to Upgrade.




WordPress lets you know your current installation will be backed up. This means if it all goes debunk, you can restore.

Click the "Upgrade" button to begin the Upgrade.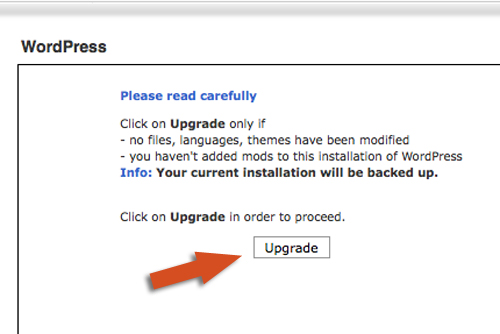 When activated, the status will show beneath "Upgrading…". Once the Upgrade is finished, the text will read "Upgrade completed."

Make sure to copy and save the information provided (see yellow highlighted area below). THIS IS AN IMPORTANT "JUST IN CASE" KIND OF STEP necessary to retrieve the WordPress backup generated a couple of steps back in the upgrade.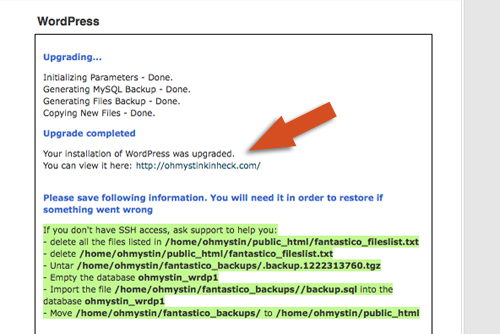 I paste mine into a .txt file and name it something ominous like, 'if-wordpress-upgrade-fails-09-24-08′. There will be no mistaking what this text file holds if I need to search for it later.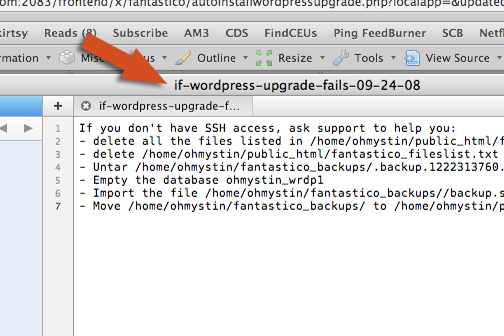 One more step

Go back into your WordPress Dashboard, and in the same Plugins Management window as before, click the white square to the left of the word "Plugin" (found in the dark grey horizontal table header right below the blue button that says "Activate") to auto-check ALL PLUGINS.

Then, click the blue "Activate" button.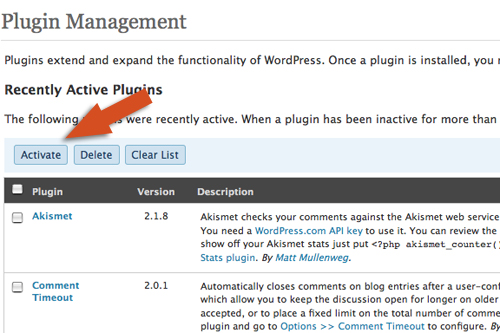 Troubleshooting

On the rare occasion that something goes wrong when you click back to view your newly upgraded WordPress blog, it is PROBABLY one of your plugins. Go back and Deactivate your plugins again, activating them one by one and checking the face of your blog. Often times, this process of elimination will reveal the dirty little plugin that will not play nice with the rest of the publishing software.

Check the plugin support page/site for upgrades, and if there isn not one, do NOT click to Activate it again, but instead, contact the plugin programmer to request a fix to match the current version of WordPress.

The most popular plugins work to keep up with the most current WordPress version; when they don not it is typically because the plugin function was integrated into the updated WordPress blogging platform.

The 4 rules for php to work on phpsuexec enabled servers are:
1. htaccess should not contain any php config values.
Such php values should be specified in php.ini.
2. Permissions for all the php files must be 644
3. Permissions for all web directories must be 755
4. Ownership must be of the user and not nobody or any other user.
---
1. PHP scripts executes under your user/group level.
2. Files or directories no longer need to have 777 permissions.
In fact, having 777 permissions on your scripts or the directories they reside in will not run and will instead cause a 500 internal server error when attempting to execute them to protect you from someone abusing your scripts.
3. Your scripts and directories can have a maximum of 755 permissions.
4. Files and directories also need to be owned by your user/group.
5. Using .htaccess with php_value entries within it will cause a 500 internal server error when attempting to access the scripts.
All php values should be removed from your .htaccess files to avoid the 500 internal server error.
Creating a php.ini file to manipulate the php settings will solve this issue.

Search Engines and Visibily Promotion
Your Control Panel Functions
Log into your cPanel using the User Name and Password allocated
Select Addon Domains, enter your domain name and password.
Video Tutorial
An addon domain allows you to reach a sub-domain when entering the name of the addon domain into a browser.
This means that you can host additional domains from your account, if allowed by your hosting provider.
Addon Domains Subdomains are relative to your account's home directory.
Note: Your add on domain must be active to your hosting space before you can add it.
(ie the DNS should point to your SmallPond Hosting space.)
UPLOADING A NEW WEBSITE
You can FTP or use the cPanel File Manager to upload content to your Addon Domain website.
Use the FTP login for your main account - details in you account activation email.
Open the Addon Domain folder and upload your website files.
Note that the home page should be called either index.htm, index.html. or index.php


Google indexing of the add-on domain is not as effective as having a website working off one domain.
Log into your cPanel : www.(yourdomain).com/cpanel.
Enter your username and password issued in your Account Activation Email.
Click on File Manager. Look for your website files in the public_html directory. Select the file to edit. Click on HTML Editor
CPanel File Manager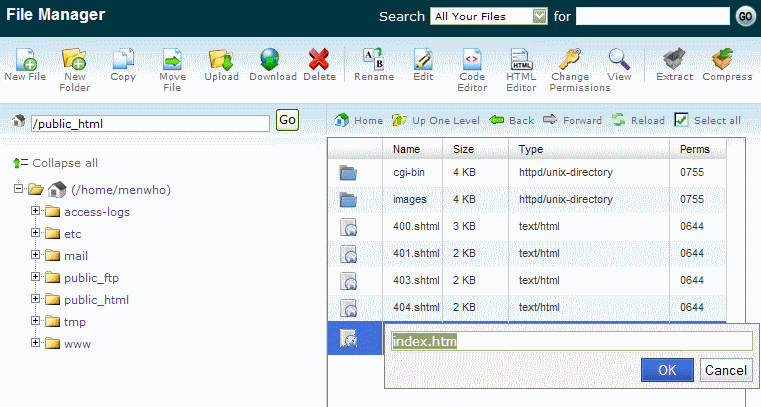 Highlight the file you wish to edit and click on the HTML Editor - wait for the editor to load in.
CPanel HTML Editor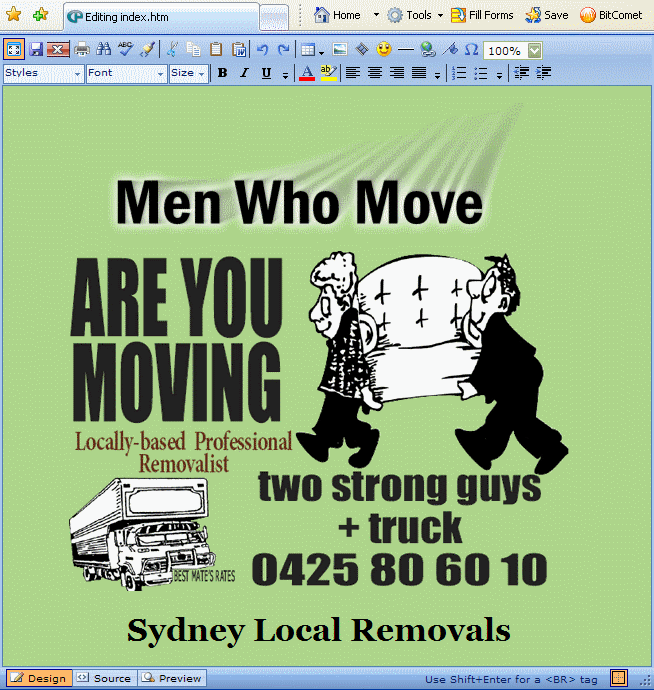 Website Help