SmallPond Servers
Very Reliable Servers - 20 years with Linux/Apache - Server physical location USA
Individual Account Restoration
Individual account backups are kept for max of 3 weeks
Account Restoration can be requested by contacting SmallPond. AUD$50 per restoration.
Download a copy of your website
- go to backup wizard in your control panel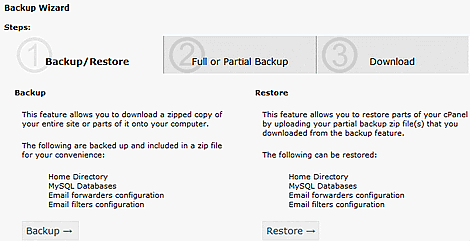 Questions
I have a computer with a windows operating system - will it work on Linux ?
SmallPond Linux servers will show your website on Windows and Mac computers providing cross platform languages are used in the building of the site. (e.g. HTML5, HTML, PHP). Linux Apache Servers are tough and reliable. They have about 80% of the world server market and are cheaper to run than Windows servers.
MS Windows specific functions like ASP, ASP.NET, Access, ODBC DSN need a windows server.
Technical Information
Whole server Backup
Offsite Whole server backup - every 2nd day.
Security and Access
Biometric Scanner
24x7 on-site technicians
Multiple layers of 24x7 security cameras, card readers, and key pads
Access to equipment area 24x7 via card key and key pads
Non-customers enter equipment area by escort only
All cabinets, cages, and suites are locking, with security upgrades availableNon-customers enter equipment area by escort onlyNon-customers enter equipment area by escort only
Facilities are monitored with 24 hour recording and 5 day video storage
Power Systems
Leibert and Powerware UPS with 120, 208, 220VAC available
Maintainance by-pass
2400 amps DC plant
100% diesel generator backup with auto start and auto transfer switch
Generator capacity equal to building utility service
A and B DC plants totally diverse
Fuel capacity exceeds 24 hours
Fuel delivery contract with 2-hour guarantee.
Network
Multiple carriers with diverse building entrances
Fully redundant Cisco architecture using 12008 routers and 6509 Layer3 switches
HSRP failover protection
Dual network feeds to each customer
100% Service Level Agreement
Environmental Controls
Liebert air
Under-floor cooling
Humidity control via Liebert units
Fire Suppression Systems
Pre-action sprinkler rated for telecommunication equipment/computer room
Integrated smoke/heat detector system